Buy the Book!
Reserve, order or ask a question.
***Special Feature***
Mercy for Me
A ruptured brain aneurysm plunged this couple into the strangest period of their lives. Arlie Rauch, husband of the patient and pastor at Community Bible Church in Glendive, Montana, tells the true story of their excruciating experience. This drama is a tribute to the inexhaustible love and goodness of God, poured out upon two people from sparsely populated eastern Montana.
***Special Feature***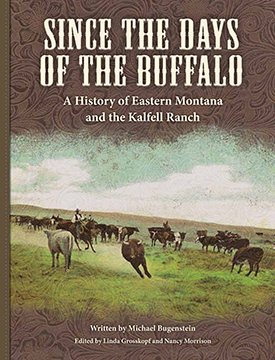 Since the Days of the Buffalo
A History of Eastern Montana and the Kalfell Ranch
by Michael Bugenstein
A comprehensive history of Eastern Montana in nine chapters, as well as the experiences on an a long-term family ranch on the High Plains. Since the Days of the Buffalo covers important and little-known facets of Great Plains history including tribal migration and settlement, open range days, homestead life, railroads, horse capture and outlaws, and the effect of the Great Depression, New Deal, and war effort in Eastern Montana. Ranching topics cover droughts and water supplies, economic downturns, diversification, land disputes and inheritance issues, presented with a "human" perspective. Since the Days of the Buffalo is an easy-to-read reference, as well as a "road map" of what today's ranchers can expect in the future.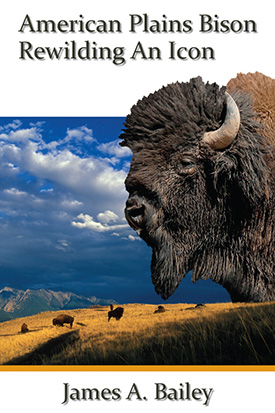 American Plains Bison
Rewilding an Icon
by James A. Bailey
published by James A. Bailey
For many, plains bison are the embodiment of wildness and the pre-settlement American West. After millennia of evolution through natural selection, however, the species was nearly wiped out, only to be subjected to domestication for more than 100 years. Domestication alters the bison genome through inbreeding, crossing with cattle genes, shrinking genetic diversity and artificial selection. These forces continue to replace natural selection and valued wild characteristics of bison. Does the future hold only continued domestication for plains bison in the United States? With a view from over 50 years in the profession of wildlife biology, Bailey probes this and other questions inThe American Plains Bison: Rewilding an Icon. The book presents his original and lively analysis of 44 conservation bison herds on native range in the United States. He focuses upon the gray area between wildness and domestication and sheds light on domesticating practices of Native American and government agencies, as well as commercial bison producers. He challenges the profession of wildlife management to expand its views on manipulating wildlife populations. For bison, Bailey makes a strong case for creating large reserves to restore wild bison and their natural contributions to our grassland ecosystems.
AS I REMEMBER
Vol. I & Vol. II
Stories of Eastern Montana's Early Settlers
As told to Mrs. Morris (Gladys) Kauffman
In 1964, during Montana's territorial centennial celebration, Mrs. Kauffman noticed the dwindling numbers of the pioneers who had settled Eastern Montana. Someone really should record their stories!
Although she had 9 children, the youngest still a baby, she set out to interview as many settlers as possible. Over the next 10 years she recorded the stories of over 160 pioneers and published those stories in the local newspaper, the Ranger Review.
Badlands of the High Plains
photography by Chuck Haney
An appreciation, in color photography, of the subtle and dramatic beauties of the badlands of the northern plains. 
Included are: The Monuments, Toadstool Geological Park, Oglala National Grasslands, and Fort Robinson State Park, Nebraska; Badlands National Park, South Dakota; Little Missouri National Grasslands and Theodore Roosevelt National Park, North Dakota; Hells Half Acre and Vedauwoo Rocks, Wyoming; Wild and Scenic Missouri River, Missouri Breaks, Makoshika State Park, Medicine Rocks State Park, Terry Badlands, and Jerusalem Rocks, Montana; Drumheller, Dinosaur Provincial Park, and Writing-On-Stone Provincial Park, Alberta.
Barbed Wire
The Fence That Changed the West
Author: Joanne Liu
Before the mid-1800s, much of the American West was a vast expanse of open plains. Native tribes followed buffalo herds unimpeded for hundreds of miles, cowboys ran cattle wherever water and grass led them, and the cattleman's Law of the Open Range ruled. All this changed when settlers pouring into the West under the Homestead Act of 1862 brought with them the Eastern farmer's concept of fencing in farms. With the invention and mass production of barbed wire in the 1870s, it soon became possible for homesteaders to fence off millions of acres of what was once open range. But barbed wire threatened the livelihood of the cattlemen who depended on unfenced grasslands, and a clash of cultures was inevitable.
In a style that will capture the interest of adult and teen readers, Barbed Wire: The Fence That Changed the West reveals the surprisingly critical role the invention of barbed wire played in the settling of America. From the legal battles over barbed wire patents to the brutal fencing wars that erupted on the frontier and the ultimate end of the open range, author Joanne Liu tells the fascinating story of how a simple twist of wire transformed a country's landscape and ushered in a new way of life.
Bedside Book of Bad Girls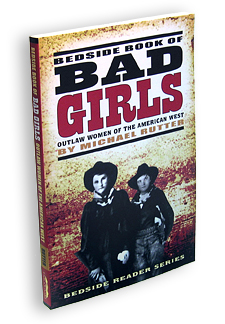 Outlaw Women of the American West
by Michael Rutter
Meet Kate Bender, who brutally murdered as many as thirty people in Kansas, including children, and buried them in her family's orchard; Laura Bullion, the only woman to participate in a Wild Bunch train robbery; and Madam Vestal, a one-time Confederate spy who organized the famous Deadwood stagecoach robberies. Witness the execution of Elizabeth Potts and Ellen Watson, the first women hanged in Nevada and Wyoming. 
Drawing on fact and folklore, author and historian Michael Rutter brings 21 gun-slinging "bad girls" to life, and explores their motives, hopes, and dreams. He dispels many of the myths about these female outlaws, for sometimes the truth is stranger than fiction. 
Featuring forty-two historical images, Bedside Book of Bad Girls sheds light on figures and events often shrouded in fabrication and fantasy. Meet these fascinating characters, complete with their pistols and petticoats, their knives and knaves, their vices and victims.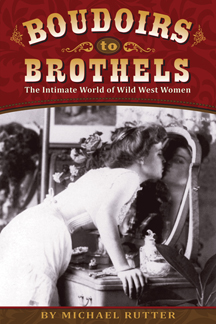 Boudoirs to Brothels
The Intimate World of Wild West Women
by Michael Rutter
Come peek between the covers for an intimate look at the lives of women of the Old West. Once "fallen" or widowed, a woman had few options and almost none that were socially acceptable. Many turned to the red light district to survive.

Mary Elizabeth Haley was born into a wealthy Texas ranch family, but she was kidnapped in a Comanche raid at age ten. Three years later, her father paid a ransom for her return. Fearing Mary had been defiled, the family shunned her. When she brought home a suitor, her father shot him dead. Mary fled to Kansas…and into a life of prostitution.

Maggie Hall was a gorgeous Irishwoman who married soon after arriving in New York City. But her gambler husband was drowning in debt, which he paid off by pimping his own wife. Excommunicated from her church and betrayed by the love of her life, Maggie made her way West as one of the most popular—and well paid—harlots of the mining camps.

As a child in the 1890s, Thelma Dolly Copeland suffered repeated sexual abuse and ran away at thirteen. She worked in restaurants and bars, but soon realized she could "make more money from the attention of men than by waiting on tables." Settling in Ketchikan, Alaska, Dolly soon enjoyed a thriving trade. She finally closed her door at 24 Creek Street in 1954.

Illustrated with rare historical photographs, Boudoirs to Brothels: The Intimate World of Wild West Women takes you inside the dark, dangerous lives of 18 madams and working girls.
Cromwell Dixon
A Boy & His Plane
Boy Genius, Inventor, Dirigible Pilot, and Aviator: Cromwell Dixon
For nearly a century, the accomplishments of a bold and audacious young aviator named Cromwell Dixon have been lost to history. But with the approaching 100th anniversary of his record-setting flight in 2011—and his violent and untimely death—the life story of this remarkable prodigy is finally emerging. 
Hailed as a mechanical genius in 1907 at the age of 13, teenage inventor Cromwell Dixon built and flew airships in Ohio before signing on with the famous Glenn Curtiss in New York and flying the world's first airplanes. At the time, he was youngest licensed pilot in the nation.
At age 19, Dixon became the first pilot in history to fly over the Continental Divide. He made the landmark flight over the Rocky Mountains near Helena, Montana, in 1911, a triumph that made news around the country. Just two days later, while performing an exhibition flight for the state fair in Spokane, Washington, a sudden and violent crash took young Dixon's life.
Like the tale of Icarus, Dixon's story is one of great daring, accomplishment, and tragedy.
Call Me Thomas
Bonnie Culver
Dreaming of being a leader, someone all the rats would admire, taking his place at the head of the pack, is Tom's ultimate desire.
What Tom doesn't have is confidence, nor a plan, nor a schedule, nor common sense.
He just has a dream that he keeps to himself, then with a sigh sets back on the shelf.
But something's in store to wake this rat up, to make him start moving, get him off of his butt.
Kicked out of his pack, 'cause he doesn't obey, Tom needs to decide if he's fighter or prey.
His future depends on the choices he makes when obstacles stand in his way.
Can Tom find the courage and strength that he needs to win at the end of the day?
I grew up with homemade bedtime stories told to me by my mother, father and older sister. It wasn't until fifth grade, after writing my first poem that I realized telling stories was in my blood too.
Fiction has always intrigued me. It is always more fun to make something up and try to prove it, than to write something that had already happened.
Working in the high school library in a small Montana town, was the perfect backdrop to feed my desire to read and write more stories. I took every opportunity to convince the students they should do the same.
I have received diplomas from Institute of Children's Literature for Writing for Children and Writing and Selling Children's and Teenagers books.
My husband and I live in Eastern Montana and split my time between family and writing.
CAMPING MONTANA 
Fresh mountain air, the soughing of pine trees, and the tantalizing aroma of sizzling trout. These are some of the allure of camping in Montana. And this is the book that will blaze a camper's trail to almost 300 public campgrounds accessible by vehicle--from Missoula to Miles City and everywhere in between. Whether toting a two-man tent or driving a 30-foot-long "tin tepee," outdoor enthusiasts are sure to find the perfect spot in which to kick back and enjoy the sights, smells, and sounds of this unspoiled state.
The Change
Deanne Smith
There is an unknown predator in a tiny Montana town in 1920. Older women are disappearing in staggering numbers, fourteen so far. 
When Clara Terrel, a faith-filled prairie wife, learns the terrifying truth - that men are having their menopausal wives arrested, tried, and sentenced to the state insane asylum - she narrowly escapes the same fate. 
At the state capital, Clara fights to have the fourteen women released and to take down the powerful, ruthless men responsible for the injustice. Annie Hazelton, Clara's charismatic, progressive friend; Connor Sullivan, a passionate attorney; and Maxwell Heinz, an awkward yet powerful man in the capital, help Clara in her quest for justice. 
The four of them form a strong bond as they face danger, murder charges, and disbelief; and along the way, they uncover facets of themselves that have long lain dormant. 
Although a story of fiction, The Change has truth at its roots.
The Charcoal Forest
How Fire Helps Animals & Plants
Author: Beth A. Peluso
After a fire, you might think a burned area is as barren and lifeless as the moon. But take a closer look and you'll find that even before the last wisps of smoke have cleared, the newly burned forest is already teeming with life. Many plants and animals find fertile ground here to grow, eat, and have offspring; some species are dependent on fire and cannot thrive to reproduce without it. 
Unlike most books, which concentrate on the fire itself, The Charcoal Forest explores the new habitat created by the fire. Focusing on the Northern Rocky Mountains of the United States and Canada, the book describes twenty species of animals and plants that contribute to the reclamation and renewal of the charcoal forest. Why do some beetles fly toward a fire? Why will you almost never see a black-backed woodpecker outside of burned areas? How do fires help grow yummy treats like huckleberries and morel mushrooms? Kids and adults will delight in discovering the answers to these and other burning questions-and don't forget to find the black-backed woodpecker in every picture!
CHARLIE RUSSELL
The Cowboy Years
Second Edition
Author: Jane Lambert
This book contains the same information as the first edition, plus more. Charlie Russell's colorful eleven year cowboy career is spiced with adventures with his horses and friends. This book chronicles the years of fun and adventure that Russell drew upon for his authentic western art. Early examples of Charlie's art and many vintage photographs illustrate the book. 
Charlie Russell: The Cowboy Years is not an art book, research paper, or novel, and its definitely not fiction. This engaging narrative chronicles the eleven years Charles M. Russell spent on the open range of Montana working as a cowboy, from 1882 until 1893. With Charlie cast as the centerpiece--which he often was during this period--with a supporting cast of friends and horses, this colorful history is filled with adventure. These years as a working cowboy were a formative time for this talented and complex artist, a man of integrity who had a great sense of humor, both childlike and raucous.
Saddle up, and ride along with Charlie and his friends. Tighten your cinch, adjust your stampede string, keep a leg on each side, and expect to have a good time!
Dale Burk's Montana
An Exquisitely Beautiful, Big Format Color Book....... 
By Dale A. Burk
      In vibrant text and stunning color photographs, author Dale Burk takes you into the heart and soul of the wild Montana he's both lived and worked in all his life. Long one of Montana's most widely published writers and photographers, in this new very personal book he offers a moving essay about Montana combined with 150 superb color photographs of Montana scenes, its seasonal moods and variations, and its people and wild creatures.
      Jack Weidenfeller of Missoula, in his Foreword for "Dale Burk's Montana," calls this beautiful book "a tribute to the state that is the love of his (Dale's) life, a place, a land, a spirit that in its non-uniformity and majestic grandeur not only inspires awe and captures imagination, but evokes a loyalty and in turn a responsibility to recognize its beauty and conserve its riches. In this book, Dale, whose third-generation roots lie deep in northwestern Montana, succeeds in painting a picture of Montana's geological and cultural diversity, of its history and the impact of the people who have shaped and scarred it, and of the current struggle to control the forces both within and without the state that are continually besieging this 'one of a kind' place...." 
      "Dale Burk's Montana" was issued in large 8x10-inch format to emphasize the many color photographs of scenic grandeur and subtle, smaller elements of life in the Big Sky Country that usually elude notice. In short, the book is a very intimate and personal essay in text and photographic form about a land the author loves. Weidenfeller notes: "For readers who know and love Montana, these original pictures will illuminate regions seldom seen, stir up memories, inform and evoke sentiments of pride and attachment, of anxiety and defensiveness. Readers unfamiliar with Montana will find in the pages of this book romance, unforgettable scenes of fierce and majestic beauty, pock-marked history and haunting questions in the context of the writer's passion for a land that has been described as 'uncommon' and 'nothing better anywhere else'."
      This is a big, beautiful book, issued in both softcover and hardcover editions, 160 pages, with 150 full color photographs.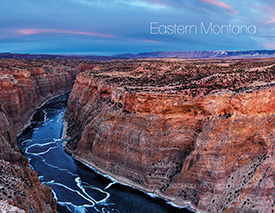 Eastern Montana
by Leland Howard and Lynna Howard
photography by Leland Howard
published by Al'Myra Communications
The beauty of eastern Montana's rolling prairies, wild rivers, and far-flung ranches is captured like never before in Eastern Montana, published by Al'Myra Communications of Miles City. With stunning full-color images by award-winning photographer Leland Howard and insightful writing by Lynna Howard, Eastern Montana is an informative and beautiful celebration of the culture and landscapes of this unique region, a treat for even longtime Montanans.
Eye of the Explorer
Views of the Northern Pacific Railroad Survey, 1853-54
Author:
Paul D. McDermott
Ronald E. Grim
Philip Mobley
In the 1850s, Congress authorized and funded five railroad surveys to determine the most practical route for a transcontinental railroad through the western frontier. The northernmost survey, headed by Maj. Isaac Stevens, was the most successful, both scientifically and geographically. Along with the data assembled by numerous scientists and surveyors was the work of two artists, John Mix Stanley and Gustavus Sohon. Their illustrations graphically documented the physical and cultural geography of the northern Great Plains and Pacific Northwest, with a particular eye for Native American life. Eye of the Explorer: Views of the Northern Pacific Railroad Survey reproduces all seventy of the lithographs that appeared with Stevens's final congressional report, published in 1860, as well as twelve of the lovely watercolor images from which the final prints were prepared.
These views depict landscapes of undisturbed wilderness, scenes from the explorers' journey, and glimpses of settlements in the initial throes of development. The accompanying text tells the story of the survey party's adventures, struggles, and day-to-day activities, and describes each image's historical, geographical, and geological importance. Liberally scattered throughout are quotations from the report. Dozens of detailed maps, illustrations, and historical photos further illuminate this engaging history.
GLACIER GHOST STORIES:
SPOOKY TALES & LEGENDS FROM GLACIER NATIONAL PARK
BY KAREN STEVENS
Renowned worldwide for its magnificent peaks and pristine wilderness, Glacier National Park is also rich in legend, lore, and tales of strange encounters.
Some of the stories are chilling, others poignant. A few may even make you chuckle. Are the stories true? Well, when shadows swirl like phantoms across the mountains and the wind whispers in the trees, when campfires flicker dimly in the dark of night…anything seems possible.
Montana author and paranormal investigator Karen Stevens has written two previous books, Haunted Montana and More Haunted Montana.
Glacier National Park: Going to the Sun
By Mike Graf - Illustrated by Marjorie Leggitt
In the eighth book in the Adventure with the Parkers series, the Parkers visit Glacier National Park in Montana. As they enjoy the waterfalls and uniquely sculpted mountains while the park's glaciers glimmer above them, the Parkers learn that because of global warming, the glaciers may not last that much longer.  During their family hikes they encounter a lot of wildlife, including moose, mountain goats, and grizzly bears, but the smoke and flames of summer fires may thwart their vacation plans.  Will Dad be able to bike over Going-to-the-Sun Road in celebration of his fortieth birthday?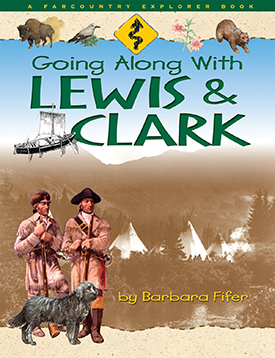 Going Along With Lewis and Clark
by Barbara Fifer
Topic-by-topic, visual treatment of the Lewis and Clark Expedition for children ages 8 to 12. Color maps, sketches, paintings, and photographs with fascinating text, presented in bright and active style, covering 'Who They Were,' 'People They Met,' 'What They Ate,' and more.
Good Montana Morning
Recipes from Good Medicine Lodge in Whitefish, Montana
by Betsy Cox
photography by Megan DiTizio
published by Good Medicine Lodge
After years of requests from guests asking her to write a cookbook, Betsy Cox--owner of Good Medicine Lodge in Whitefish, Montana--has finally done just that. 
Good Montana Morning features 104 of the bed-and-breakfast's signature recipes.
Farmers markets and Cox's own personal garden inspire many of the recipes, which include egg dishes, fruit, french toast, waffles, pancakes, cereal, pastries, and cookies. The beautifully photographed cookbook includes several award-winning recipes. 
Features inventive regional dishes such as Going-to-the-Sun Eggs, Huckleberry Vinaigrette, and Flathead Cherry Cobbler. 
A portion of the proceeds from the sales of the book to the Whitefish Food Bank.
GPS Outdoors
Russell Helms
For about $150 anyone can access the United States' multi-billion dollar GPS program. Using GPS Units: A Practical Guide for Hikers, Bikers, Paddlers, and Climbers shows readers how to plug in and enhance most any outdoor experience. Whether a hiker on a weekend trip through the Great Smokies, a backpacker cruising the Continental Divide Trail, a mountain biker kicking up dust in Moab, a paddler running the Lewis and Clark bicentennial route, or a climber pre-scouting the routes up Mount Shasta, a simple handheld GPS unit is fun, useful, and can even be a lifesaver.
    Described in conjunction with today's most popular GPS software, easy to understand information in this guide enables readers to: >Plan a trip >Navigate along a route >Gather data from the outing >Analyze trip data after the trip Information is power, and a GPS unit is today's preferred tool to harness the power of navigational technology for a more enjoyable, more informative, and possibly safer outdoor experience.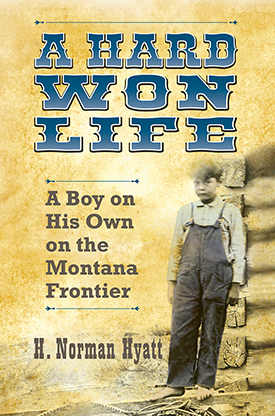 A Hard Won Life
A Boy on His Own on the Montana Frontier
by H. Norman Hyatt
Based on the hand-written memoir of Fred Van Blaricom, this true story recounts a life of hardship and hope in the Montana Territory during the late 1800s. Told in Fred's affable voice and rich with historical detail,A Hard Won Life is a coming-of-age story packed with adventures and grounded in the remarkable lives of the earliest homesteaders—men and women—of the Lower Yellowstone. Meet young Teddy Roosevelt, famed buffalo hunter Vic Smith, saloon owners, devious outlaws, and persistent sheriffs. Working as a cowboy, young Freddie broke horses, helped catch a horsethief, survived the cattle-killing winter of 1886, and at age ten rode alone 100 miles to work a season on a ranch in the Dakota Territories. Fred's was a life of struggle against many obstacles, but he overcame them or abided them with no complaint. As he himself put it: "The hero was throwed, but the horse was tamed." Meticulously researched and superbly written, A Hard Won Life is a tale of bravery, determination, and one boy's embodiment of the spirit of Montana.
Haunted Montana
BY KAREN STEVENS
Here's your ghostly guide to spooks, spirits, and specters of Montana. From haunted hotels to eerie inns, this book will take you to all the spookiest spots in the state. Want to meet a phantom? Experience a poltergeist? Commune with the dearly departed? Let Haunted Montana lead the way to places you can stay to experience the other side.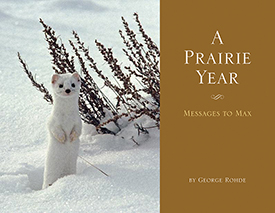 A Prairie Year
Messages to Max
by George Rohde
photography by George Rohde
foreword by Bruce Lytle
published by Beverly Rohde
After a long, arduous battle with cancer, George Rohde decided to make a living doing what he loved most: observing the northern prairie. The avid field biologist honed his photography skills and sold his work at craft shows, most in the form of notecards which he also sent to his grandson Max. A Prairie Year: Messages to Max is a collection of these engaging notecards that tell the story of the prairie over the course of a year. Beautiful photographs of animals in their natural state make up 12 chapters that take readers on a visual journey through the seasons on the vast grassland. Explanatory text paints a picture of life on the prairie and offers Rohde's own thoughts and musings, allowing readers to share his wonder and love of this majestic grassland. A Prairie Year is an informative book for all who enjoy learning about the 
A Montana Journal
by Christopher Cauble
This is a beautiful new book for all who love Montana. A cloth hardcover with a "tipped-in" front cover photo and foil stamping, it features 144 lined pages for writing and 36 pages of evocative color photography from across the state, plus several treasured quotations about Montana from famous authors. The writing pages have subtle lines on matte paper, perfect for pen or pencil. The color photographs are brilliant on art-quality glossy paper. The book has a sturdy sewn binding and a bound-in ribbon marker. There is no other Montana book like it, an elegant journal that is functional and durable, great for home or backpack.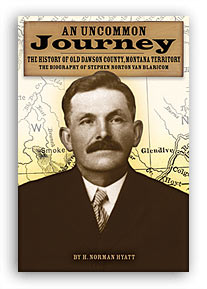 An Uncommon Journey
The History of Old Dawson County, Montana Territory
The Biography of Stephen Norton Van Blaricom, A True Story of the First Settlers of the Last West
by H. Norman Hyatt
published by H. Norman Hyatt
produced by Sweetgrass Books
Based on the memoir of Stephen Norton Van Blaricom, An Uncommon Journey details the origins of Dawson County, Montana, in the late 1800s.
The oldest of nine children, Van Blaricom left home at the age of thirteen and worked for many of northeastern Montana's earliest ranches. After working for the Northern Pacific Railroad, he married Maud Griselle, one of the first female telegraphers for the Northern Pacific.
More than a family history, An Uncommon Journey tells the personal stories of many of the first settlers of this last West: buffalo hunters, cattlemen, train drivers, early tradesmen, saloonkeepers, scallywags, and lawmen.
This is the story of many of the long-forgotten first settlers of old Dawson County and how they met the challenges of a country that was then primitive and remote at its best and deadly at its worst. For all of them it was, indeed, An Uncommon Journey.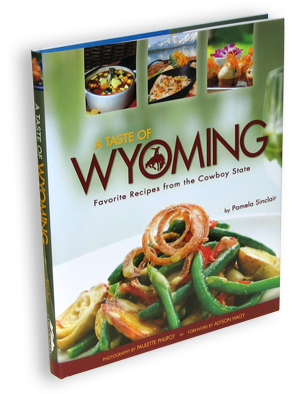 A Taste of Wyoming
Favorite Recipes from the Cowboy State
by Pamela J. Sinclair
photography by Paulette Phlipot
foreword by Alyson Hagy
A Taste of Wyoming is a divine blend of Wyoming's rich culinary heritage and contemporary cuisine. 
This exquisite cookbook features sophisticated interpretations of Western dishes from Wyoming's finest restaurants, lodges, and bed-and-breakfasts--as well as classic Cowboy State favorites. 
Take a seat at the table for mouthwatering Western cuisine: 
-Blue Ribbon Caramel Cinnamon Rolls, 
-Pine Nut-Crusted Goat Cheese,
-Warm Green Bean Salad, 
-New West Clam Chowder,
-Lamb Ossobucco,
-Brandied Apricot-Stuffed Pork Loin with Port Wine Glaze, 
-Pan-Fried Rocky Mountain Trout with Hazelnut Butter, 
-Wild Huckleberry Muffins with Orange Glaze.
Complementing the delectable recipes and 75 gorgeous photographs are excerpts from the works of Wyoming writers and delightful historical images.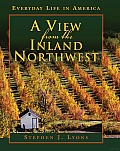 A View from the Inland Northwest: Everyday Life in America
by Stephen J. Lyons
With sensitivity, compassion, and grace, author Stephen J. Lyons brings us into the lives of the loggers, chaplains, artists, migrant workers, and others who live their lives in the wide open spaces west of the Continental Divide.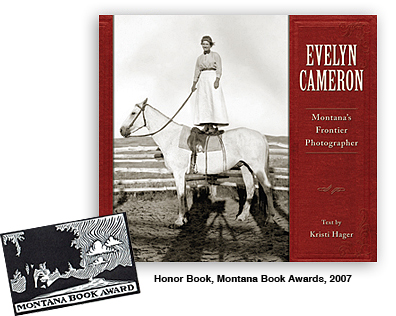 Evelyn Cameron
Montana's Frontier Photographer
text by Kristi Hager
Born in 1868 to a wealthy British family, Evelyn Cameron traded privilege for adventure, the lush English countryside for the austere eastern Montana badlands, a lavish estate for a tiny homestead shack. 
In 1894, at the age of 26, Evelyn turned to the burgeoning art of glass-plate photography as a way to support the Camerons' struggling horse ranch, producing some of the most remarkable images of pioneer life ever seen. 
Often riding twenty to thirty miles roundtrip, carrying her nine-pound camera around her waist and her wooden tripod in a gun scabbard, she spent thirty-four years documenting eastern Montana. She captured western landscapes: the ruggedly beautiful badlands, vast expanses of unfenced prairie, and otherwordly sandstone formations. And she photographed western characters: sodbusters, cowpunchers, and sheep shearers, stern-faced ranch families, and hopeful, dreamy-eyed immigrants. She also produced some of the first photographs of North American birds. 
Evelyn Cameron: Montana's Frontier Photographer showcases 117 of the finest and most fascinating images by this adventurer, homesteader, ranchwoman, and great American photographer. 
AWARDS: Honor Book, Montana Book Awards, 2007
Floating on the Missouri:
100 Years After Lewis & Clark
by James Willard Schultz
In 1901, almost a century after Lewis and Clark toiled along the same route, noted writer James Willard Schultz and his Blackfeet wife Natahki (Fine Shield Woman) made a float trip on Montana's Missouri River from Fort Benton to the mouth of the Milk River, a distance of more than 200 miles. In a small boat, they passed through what is now the Upper Missouri National Wild and Scenic River, the Upper Missouri River Breaks National Monument, and the Charles M. Russell National Wildlife Refuge.
On one level, this book is an entertaining travelogue about the river's extravagant scenery, its plentiful wildlife, and the joy of drifting day after day through wild country. On another level, it is a remarkable record of the vanishing American frontier. Each tributary, island, rapid, and geological formation was the scene of some notable event to Indians or white men, including Schultz himself, who had lived in the area since 1877. Schultz relates those events with verve and dialog as if they happened yesterday. The result is an extraordinary book for travelers and historians alike.
Schultz wrote the acclaimed Blackfeet Tales of Glacier National Park and dozens of books about Indians and the American West. Floating on the Missouri includes an authoritative introduction to Schultz, his writings, and the historical significance of this book, by Montana historian Eugene Lee Silliman.
The House of Bair
Sheep, Cadillacs and Chippendale
by Lee Rostad
published by Lee Rostad
produced by Sweetgrass Books
The House of Bair tells the story of one of the most remarkable families of the early 20th century.
The Bairs built a dynasty in the small ranching community of Martinsdale, Montana. They left behind a legacy of philanthropy, and displayed in their ranch house, a vast and invaluable collection of American and European art and antiques.
The Bairs left their home as a museum to the people of Montana, a seemingly simple request that ultimately divided friends, sparked numerous lawsuits, and made national headlines. Rostad details the fight of the community to save the ranch museum and uphold the wishes of these beloved and colorful figures in Montana's history.
Ice Age Mammals of North America
A Guide to the Big, the Hairy, and the Bizarre
Author:Ian M. Lange
Illustrator:Dorothy S. Norton
Colorfully illustrated descriptions of strange and marvelous beasts form the heart of Ice Age Mammals of North America. You'll learn about the geologic events that led to the ice ages, along with possible causes for the mass extinctions of so many species. Fun sidebars explore such topics as the enormous size of some Ice Age animals and how DNA analysis is revolutionizing our knowledge of them. You'll even discover sites where you can view remains of these fascinting creatures today.
Journey to the Northern Rockies
Globe Pequot is proud to announce the continuation of its Journey series, which started with Journey to the High Southwest and continues here with the publication of Journey to the Northern Rockies. Part guidebook, part travelog, part love letter, these books are for high-country and armchair travelers alike.The Northern Rockies -- from the Tetons in Wyoming, north to Glacier National Park at the Montana-Canada border, and west into Idaho-are a mecca for skiers, hikers, and those searching for some of the last stretches of unspoiled land in the country. This new title follows in the footsteps of Journey to the High Southwest as a history lesson, a travel guide, and a love letter to this land of grandeur and wildness. Michael McCoy flakes travelers to the tried-and-true attractions of the Northern Rockiens -- watching Old Faithful, driving the Going-to-the-Sun Road. It also encourage stops off the trail with information about the natural history and cultural geography of each individual area, plus extensive notes about touring through them. Each regional chapter includes a "Staying There" section, which carefully chosen information about area lodgings, restaurants, shopping, camping, annual events, and outdoor activities.
Law of the Range:




Portraits of Old-Time Brand Inspectors
More than a decade ago, Stephen Collector began photographing brand inspectors throughout the West. This simple curiosity gradually became an obsession, resulting in Law of the Range, runner-up as the best Art Book in the Rocky Mountain region. Collector's goal was to achieve the portrait as landscape, and to know the landscape and its people. His black-and-white photographs document beautifully a part of the West missing and presumed dead. However, rustling is not entirely a thing of the past, and the profession of the range detective did not die out with Tom Horn. Collector's fifty duotone portraits of inspectors, with short biographies and a dozen detail shots, are wonderfully enriched by Annick Smith's evocative and informative introduction. This is indeed the portrait as landscape, and though the landscape may be irreparably altered by progress, the souls of these men endure.
Mammals of Montana
Second Edition
Author: Kerry R. Foresman
Photographer: 
Alexander V. Badyaev
This comprehensive guide details the taxonomy, ecology, behavior, reproductive biology, and distribution of all 109 mammal species in Montana, from the pygmy shrew, one of the tiniest mammals in the world, to the bison, the largest land mammal in North America. Whether you want to distinguish between the 15 species of bats that live in or migrate through the state or are simply trying to identify the squirrel in your backyard, Mammals of Montana is for you. This second edition contains more than 500 color photographs, many by renowned wildlife photographer Alex Badyaev. Scattered throughout the species descriptions are interesting and curious facts about these wild creatures. Learn which shrew is venomous, how the pika survives winter in its alpine habitat without hibernating, and what animal squeezes through vole tunnels in search of dinner. Author Kerry Foresman also covers the reintroduction efforts to save Montana species, such as the black-footed ferret and swift fox, from extinction, and he cautions how climate change may push others, such as the northern bog lemming and wolverine, to the brink.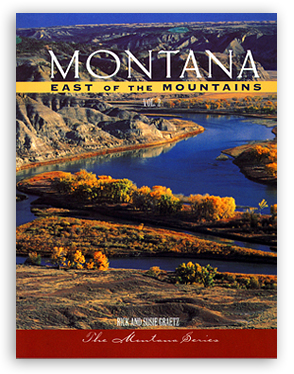 Montana
East of the Mountains - Volume 2
by Rick and Susie Graetz
Showcases the unique scenic beauty, wildlife, and culture of eastern Montana.
Montana State Parks:
Complete Guide & Travel Companion
by Erin Madison and Kristen Inbody
Montana's 55 state parks are a spectacularly diverse collection of natural areas, historic sites, and fun places where visitors are welcome to hike, camp, fish, swim, boat, photograph, watch wildlife, learn, and explore.
Join award-winning Great Falls Tribune reporters Erin Madison and Kristen Inbody as they visit each park and interview park managers, historians, and visitors to provide the most complete and up-to-date information about these remarkable public lands. Their unique book is packed with current information and special features, including:
- Key information at a glance
- Best parks for camping, boating, hiking, and recreation
- Best parks for history and natural wonders
- Author-recommended activities
- Photos, maps, and directions
- Accurate information on all campgrounds, fees, and facilities
- A foreword by Montana Governor Steve Bullock
- A special Smith River essay by Montana novelist Maile Meloy
- Perfect size for taking along on trips
- The only guidebook to all the parks
- Use this book to find a favorite park—or take the State Park Challenge and visit all of them!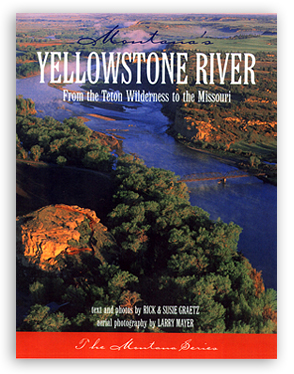 Montana's Yellowstone River
From the Teton Wilderness to the Missouri
by Rick and Susie Graetz
From beginning to end, the history, beauty, landscape, and communities surrounding this powerful, free-running river. Features 80 color photographs.
Kesselheim and Lee on Montana's Real People
By Bozeman writer Alan Kesselheim and photogpraher Thomas Lee 
Kesselheim and Lee worked together for more than a decade interviewing and photographing what Kesselheim describes as the "not famous but very cool people" who live here for Montana Quarterly, and have chosen the best of those stories for their book: 
"Over the years they met ordinary people with extraordinary life histories. What they found—in the spacious landscape under the Big Sky—was the human embodiment of inspiration, endurance, triumph, hard work, talent, humor, great schemes and daily heroism. The stories come from unlikely spots on the Montana state map—places like Sidney and Park City, Frenchtown and Malta—places worth loving. They feature people like Elsie Fox and Jerry Cornelia and Richard Steward, whose lives brim with authenticity and fierce spirit."
Kesselheim is well-known for his epic adventures, mainly on rivers, and has written books about them including Water and Sky: Reflections of a Northern Year, Threading the Currents: A Paddler's Passion for Water, and his latest, Let Them Paddle: Coming of Age on the Water. In a 2008 interview, he said a sense of place—this place—is vital to his writing. "I think where you live, the landscape you are surrounded by… is key to what I do. I think having access to wild places, adventurous experiences and, on a more visceral level, the sense of this landscape around you does center you in a way as a writer that would be tough to capture in a place that didn't have that kind of quality."
This book epitomizes Lee's passion for photography: "I love telling the beautiful, visual truths I find whenever I put a camera in front of my face," he says. Lee has authored two coffee table books of photography, Yellowstone View and Historic Homes of Bozeman, and was the founding chief photographer for the Montana Quarterly.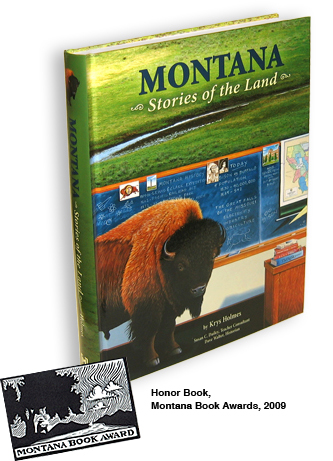 Montana
Stories of the Land
by Krys Holmes, with major contributions by Dave Walter and Susan C. Dailey
published by Montana Historical Society Press
produced by Sweetgrass Books
More than 12,000 years of Montana history come to life in Montana: Stories of the Land. This new book, created for use in teaching Montana history, offers a panorama of the past, beginning with Montana's first people and ending with life in the twenty-first century. 
Incorporating Indian perspectives,Montana: Stories of the Land is the first truly multicultural history of the state. It features hundreds of historical photographs, unique artifacts, maps, and paintings largely drawn from the Society's extensive collections. Sidebar quotations bring the stories of ordinary people to life while providing diverse perspectives on important historical events. 
AWARDS: Honor Book, 2009 Montana Book Awards.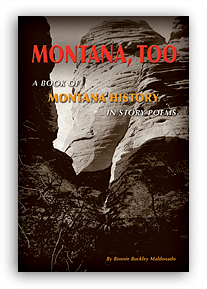 Montana, Too
A Book of Montana History in Story Poems
by Bonnie Buckley Maldonado
The rural people of Montana whom you will meet in these colorful poems refused to leave when they lost homesteads and ranches, suffered through the Great Depression, and endured ruthless cycles of drought and cruel winters with resulting loss of land, crops, and livestock. The poems are spoken in the words of grandfathers, courageous men and women, and resourceful children who persevered in the relentless climate of the east side of the Rocky Mountain Front.
Montana Trivia
Janet Spencer
This fun-filled, fact-filled trivial extravaganza will keep you laughing, keep you learning, and keep you guessing. Trivia Queen Janet Spencer scoured libraries, archives, and museums for the oddest and most obscure figures, facts, and fascination she could find. The perfect campfire companion! Use the book to play a homemade version of Trivial PursuitTM. Keep a copy in your glovebox, or put it in your bathroom!
Montana UFOs and Extraterrestrials

:


Extraordinary stories of documented sightings and encounters
Joan Bird
In 1950, two spinning disks flew over Great Falls, Montana, and were filmed on a hand-held camera. Today, those "flying saucers" in the now-famous "Montana Movie" still defy conventional explanation.
In the 1960s, UFOs were reported at Minuteman missile silos in Montana. In separate incidents while a UFO was overhead, armed and ready nuclear missiles were suddenly deactivated as missile launch officers watched helplessly. The U.S. Air Force ordered these men never to tell anyone what happened.
This book critically examines these and other UFO events in Montana, including reported contact with extraterrestrials. Drawing on recently declassified government documents, historic reports, and first-hand interviews, Ph.D. zoologist and author Joan Bird presents compelling evidence that UFOs are real, have frequented Montana's Big Sky, and have landed in the state.
This book also introduces readers to significant UFO incidents in the U.S., to official government investigations such as Project Blue Book, and to major figures in the study of UFOs.
More Haunted Montana
by Karen Stevens
Want to bowl with the ghosts at a bowling alley in Anaconda? Explore a spooky mine near Helena? Have you ever slept with a ghost? At a bed-and-breakfast inn near Missoula, you might find yourself sharing your bed with the ghost of the former landlady! Thirsty? You're welcome to hoist a cold brew at a haunted bar in Billings. But if you don't believe in ghosts, then avoid one particular barstool—or wear a hard hat! One of the resident spooks doesn't care for scoffers.
In More Haunted Montana, certified ghost hunter Karen Stevens once again focuses on haunted sites of historic interest that are open to the public. Just like she did for her first book, Haunted Montana, Stevens personally investigated each haunting and interviewed eyewitnesses to the paranormal sights and sounds. She describes the history behind the haunting, the specific phenomena, and the best way to maximize your chances of encountering the Other World.
You'll find thirty-four spooky stories from all over the state, from the historic Bitterroot Valley to the starkly beautiful prairies of the east. Use this book as a travel guide to the supernatural or simply enjoy it as an entertaining narrative about Montana's most haunted places.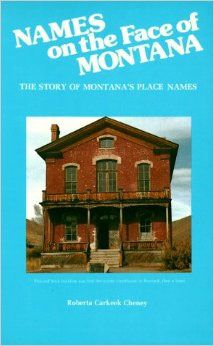 Names on the Face of Montana:
The Story of Montana's Place Names 
by 
Roberta Carkeek Cheney
The Story of Montana's Place Names
Nature's Yucky
Gross Stuff That Helps Nature Work
Author: Lee Ann Landstrom and Karen I. Shragg
Illustrator: Constance R. Bergum
Did you know that honey is really bee barf? That grizzly bears sometimes eat rotting meat? Or that turkey vultures poop on their own feet? Nature's Yucky uses kids' natural fascination with the stinky, the gross, and the icky to help them learn more about wild animals and why critters behave as they do.
Younger children will love having the book read to them, while older children and adults will also enjoy the "Animal Facts" section in the back, which has more in-depth information on the featured animals. Kids of all ages will get a kick out of learning to identify the droppings of various animals by making (and eating!) "scat cookies." Lovely watercolor illustrations balance out the "yuckiness," reminding us that nature is not just disgusting, but beautiful, too.
For K-5th grade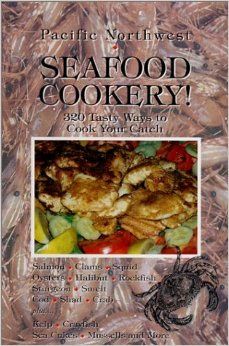 Pacific Northwest Seafood Cookery
by Stan Jones
The ultimate sea-to-table guide for Pacific Northwest seafood lovers.
320 delicious yet easy to prepare recipes for salmon, clams, squid, oysters, halibut, rockfish, sturgeon, smelt, cod, shad, crab, and the Northwest unique--crayfish, kelp, sea cucumbers, mussells, urchins, scallops, abalone, octopus and much more. Plus soups, chowders, stuffings, sauces, butters. Helpful how-to-prepare illustrations for converting wild catches into wonderful meals by buying, storing, cleaning, filleting, shucking, scaling, slicing, steaming and steaking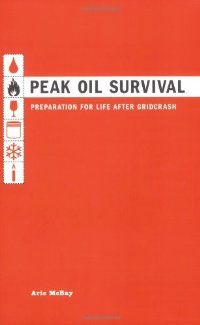 Peak Oil Survival: Preparation for Life After Gridcrash
Aric McBay
Oil and energy are not limitless resources, and someday the supply will be depleted. Peak Oil Survival shows readers how to plan for the future: how to survive and thrive when the food, transport, and energy industries sputter out. Author Aric McBay gives an essential crash course complete with clear, simple instructions and easy-to-read diagrams. Peak Oil Survival will explain how people can protect their families and strengthen their communities in the event of a crisis-and live comfortably off the grid.
Photographing Montana, 1894-1928: The Life and Work of Evelyn Cameron
Photographing Montana showcases more than 150 of Evelyn Cameron's photographs, including vast landscapes, range horses, cattle roundups, farmers' fields, and the wildlife of the high plains. Her vivid images convey the lonely strength of pioneers and the slow growth of Terry, Montana.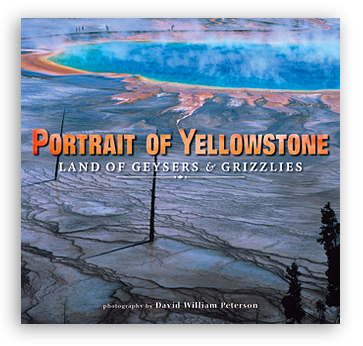 Portrait of Yellowstone
Land of Geysers and Grizzlies
photography by David William Peterson
For most of the year, photographer David Peterson calls Yellowstone home, and he applies his unique style of image-making to the land of geysers and grizzlies. He seeks to capture Yellowstone's many moods, from the breathtaking vistas of the Grand Canyon of the Yellowstone to the otherworldly landscapes of Mammoth Hot Springs. Engaging wildlife photographs and aerial shots complete this Portrait of Yellowstone.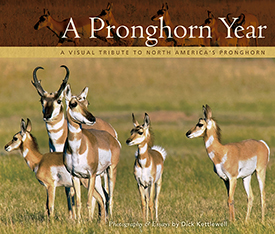 A Pronghorn Year
A Visual Tribute to North America's Pronghorn
by Dick Kettlewell
Our prairies, plains, and rangelands would be empty landscapes without the supremely adapted pronghorn. InA Pronghorn Year: A Visual Tribute to North America's Pronghorn, Dick Kettlewell beautifully captures this animal's amazing speed, eight-power eyesight, and all-season hardiness. More than 100 full-color images—including rare close-ups of newborn fawns—complement the lively, intriguing text, sure to entertain and inform readers of all ages.
Raptors of the West
Captured in Photographs
Winner National Outdoor Book Award
Author: Kate Dunlap
Davis's books are not only the best books available on (western) American birds of prey for the lay reader and serious amateurs, but their sensational photographs and sound technical information also make them useful and enjoyable to hardcore raptor biologists --Lloyd Kiff, Raptor Researcher
With their striking looks, keen vision, and hunting prowess, the birds of prey—eagles, hawks, falcons, and owls—have long captured the human imagination. Now Raptors of the West, a collection of some of most remarkable and action-packed raptor photographs ever taken, can inspire your own imagination to take flight. This book, the latest collaboration by award-winning photographers Rob Palmer and Nick Dunlop and author/ photographer Kate Davis, is a glorious photographic ode to the forty-five birds of prey that roam the skies of the American West. 
Instead of grouping the birds by type—owls with owls, hawks with hawks—the book has chapters arranged by the habitat type and region where each bird spends the breeding season. Whether you're enjoying these pages from the comfort of your own armchair or taking a trip to the field you can see which birds to look for in that area—Swainson's Hawks soar over grasslands next to Prairie Falcons while Cooper's Hawks share mature forests with Flammulated Owls. While the 430 stunning color photographs are enough to set this book apart on their own, Davis's informative and entertaining text completes the picture.
Rocky Mountain National Park Trivia
by John Daters
Rocky Mountain National Park is full of wonder—and so is this book. You'll learn about the park's tallest peaks, biggest waterfalls, largest trees, record climbs, famous people, great events, mysteries, and more!
Do you know that little animals called pikas build "haystacks" to store their food? That wind-chill in the park has dropped to one hundred degrees below zero? That Trail Ridge Road rises to 12,183 feet above sea level, the highest paved through-road in the United States? That the builder of the Stanley Hotel was the same man who invented the unique steam-powered automobile, the Stanley Steamer? Or that the first humans in the area arrived 10,000 years ago?
Hundreds of lively questions and answers will keep you entertained wherever you go. This book is the fun-tastic way to learn about Rocky Mountain National Park.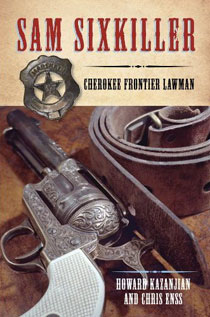 Sam Sixkiller
"No one imagined that Muskogee was to lose a good citizen and the Territory one of the bravest of officers."
The Indian Journal – December 29, 1886
Soul of the Rockies: Portraits of America's Largest Mountain Range Hardcover
This is the second book in Ed Cooper's Soul of the Heights series and is intended to be a celebration of the Rocky Mountains, capturing on film and in text what the author describes as the soul of the Rocky Mountains.
The Casebook of Sheriff Pete Benson
by John S. Fitzpatrick
Pete Benson was a big-city police detective. His job was intense, dangerous, and 24/7.
He loved it.
But he also had a loving wife and two young children he hardly saw.
So he made a choice.
Now Sheriff Pete Benson patrols Rhyolite County, Montana. His beat is bigger than some states, but it's beautiful country with tall mountains and broad valleys—and more cows than people.
Rodgersburg, the county seat, has fewer than three thousand people. That's where Benson and his family live, where he gets the daily gossip from the regulars at the Apex Bar, and where he knows most everyone and they know him.
Most people in Rhyolite County are good, honest, friendly folk—a bit quirky sometimes, but loveable. There's Bootsey Gorman, an octogenarian prospector still looking for the one big mine he can call his own. And Mandy Lynn Marks, the town beauty who leaves a trail of bruised hearts and broken marriages in her curvaceous wake. And Kay Best, the sheriff's indispensable right-hand "man" —when she isn't playing practical jokes on him.
Of course, even in paradise trouble sometimes comes calling. Fortunately, Sheriff Pete Benson is on the job. He loves it.
These are his stories.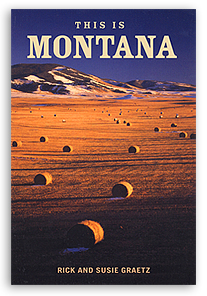 This is Montana
by Rick and Susie Graetz
A comprehensive look at the geographic beauty of the state through 151 lively essays. Features 124 black-and-white photographs.
Unforgettable Days Afield
Montana Hunting
Montana hunters are lucky. Not lucky in hunting, but lucky in that we hunt here, in Montana. In this book, you'll see why. Here we hunt elk from border to border, and they're big and wild too, just like the country they live in. You can hunt elk for months every year, if you care to bowhunt in the early autumn and rifle hunt later on. But it's hard to hunt elk all that time. There's so  much other hunting to do.
We have two species of deer, and hunting them is a passion for some and a time-honored tradition for most of us. We also have two species of bears, but we only hunt the black bears. We simply let the grizzly add spice to the scenery. Many of us get to hunt pronghorn antelope, and there is something very special about hunting where the sky comes down almost to the ground and the grassy seas go on and on to the far horizon. And if you're really lucky, you can hunt  moose, bighorn sheep, and mountain goats. Where else can you do all that?
But wait -- there's more!
Upland bird hunters think they're in heaven, for they can whistle up their dogs for pheasants and sharptails, Huns and sage hens, and grouse from high mountain ridges to deep, tangled thickets. And those are small game compared to the turkeys of the open timbered hills.
Then, when it really gets cold, many of those same dogs will be retrieving ducks and geese from frozen fields and icy rivers and tiny warm spring creek where the steam boils into the arctic air. In this book, you'll see these things and more. And maybe you'll think that 'lucky' isn't the right word for Montana hunters. Maybe 'blessed' is what we really are.
Venison As You Like It
The author concentrates on showing you various cooking methods, smoking techniques, curing methods, sausage making, and cooking recipes.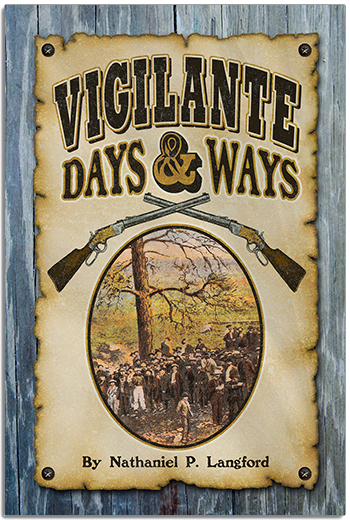 Vigilante Days and Ways
by Nathaniel P. Langford
foreword by Dave Walter
Riders in the night...impromptu ''trials''...corpses dangling from cottonwood trees and makeshift scaffolds...
When the outlaws called themselves ''Innocents,'' and their leader masqueraded as sheriff...
Before formal law enforcement arrived on Montana's gold frontier, a few good men tried to restore order themselves. At first they succeeded, but then they went too far. 
Here is one insider's version of the story.
Langford's Vigilante's Days and Wayswas first published in 1890.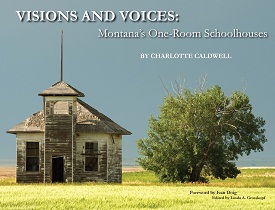 Visions and Voices
Montana's One-Room Schoolhouses
by Charlotte Caldwell
photography by Charlotte Caldwell
foreword by Ivan Doig
The story of Montana's one-room schoolhouses, as recollected and recounted by those most intimately connected to those places, is the story of the American frontier and the high value placed on education by those who came to homestead, mine, or work the railroads. It is a story of the Western spirit and of a culture marked by tenacity and endurance. These stories—told by students and teachers, many of whom are now in their eighties or nineties—tell of adventures traveling to and from school, the school day, recess games, family life, daily chores, and above all, the sense of community, as defined by these iconic humble schoolhouses. Their voices share memories and perspectives about a way of life, gone for the most part, and breathe life into these visions of rural heritage.
The preservation of one-room schoolhouses is important, as they are among Montana's first frontier structures. These treasures inform us about ourselves—our history and our culture—through the people who learned and taught in them.
One hundred percent of the net proceeds of this book will be donated to the Preserve Montana Fund, a campaign of collaboration between the Montana Preservation Alliance, the Montana History Foundation, and the National Trust for Historic Preservation. This donation will serve to create a challenge grant, earmarked for Montana's endangered one-room schoolhouses.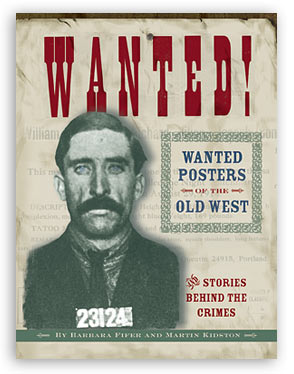 Wanted!
Wanted Posters of the Old West And Stories Behind the Crimes
by Barbara Fifer
and Martin J. Kidston
This rare collection of wanted posters from the American West is a historical treasure. The book's nearly 150 original wanted posters, fugitive notices, and Pinkerton Agency circulars are supplemented by fascinated details about the technology of identification, the history of wanted posters, and the stories behind the crimes, which ranged from horse theft, safe blowing, train robbery, seduction, ''white slavery,'' and murder. Posters for notorious bandits such as Jesse James, Butch Cassidy, and the Sundance Kid are also featured.
"The Whole Country was... 'One Robe'":
The Little Shell Tribe's America
Co-published by the Little Shell Tribe of Chippewa Indians of Montana and Drumlummon Institute
"The Whole Country was . . . 'One Robe,'" by historian and folklorist Nicholas Vrooman, is an extraordinary account of an extraordinary people. Dr. Vrooman, after a lifetime of engagement with the history of a burgeoning and distinctive aboriginal amalgam culture on the Northern Plains, gives us the untold story of the Little Shell Tribe of Chippewa Indians of Montana.
In twenty-nine meticulously researched chapters, Dr. Vrooman provides the full context for the Little Shell's present-day circumstance in Montana, from origins in the Upper Midwest to their role as successful traders, buffalo hunters, guides, and scouts in North Dakota and Montana (on both sides of the U.S.-Canada border), to their struggle for survival on the margins of Montana towns through the 1950s.
Vrooman writes: "Because of intense historical prejudice, the members of the Little Shell Tribe of Montana live today in a very distinctive and critical conundrum within the greater society. . . . The grand narrative of the Little Shell is . . . one of immense courage, fortitude, resilience, perseverance, hope, and love. It is a story that comprises the deeper, truer telling of our continent's history."
Women in Wonderland
Lives, Legends and Legacies of Yellowstone National Park
by Elizabeth A. Watry
"Betsy Watry tells the tales of a dozen women, some of whom had short-lived adventures in Yellowstone National Park, but most of whom spent decades as rangers, scientists, interpreters, and entrepreneurs, shaping the Park's physical and cultural landscape. This is a wonderful 'hidden' history, full of surprising stories, grounded in intensive research and written with charm."
—Dr. Mary Murphy, historian and author of Hope in Hard Times
"For so long, Yellowstone National Park has needed a book about the women who stood and today stand tall in its history. At long last, Elizabeth Watry has produced it. Women across the nation should celebrate this book for its noteworthy contribution to women's history, as we professional historians do."
Lee Whittlesey, Park Historian, National Park Service, —Yellowstone National Park
"To read about Yellowstone National Park too often means viewing it through the eyes and exploits of men. By sharing the experiences and contributions of women who visited, lived, and worked in Yellowstone, Elizabeth Watry places women front and center in the Park's wondrous history. Women in Wonderland is sure to become a treasured resource."
—Diane Smith, author of Letters from Yellowstone
Yellowstone Memories
30 Years of Stories & Photos
by Michael H. Francis
Few people know Yellowstone National Park as well as nature photographer Michael H. Francis. For thirty years he has worked and played in Yellowstone, his favorite place on the planet. This book is a collection of some of his favorite stories and photos, from bears  and bison to weather and wildflowers. For anyone who loves Yellowstone, this is a memory book to treasure and enjoy.
Yellowstone National Park
An ABC Adventure
Author:KC Glastetter
Jeremie Hollman
The first national park in the world, Yellowstone National Park remains one of the nation's treasures. It contains more than half the planet's geothermal features—mud pots, hot springs, and geysers like Old Faithful. Yellowstone is equally famous for its remarkable assortment of animals, plants, and scenic views. With Yellowstone National Park: An ABC Adventure, join nature photographers KC Glastetter and Jeremie Hollman as they take readers young and old on a letter-by-letter photographic journey through the park.
Yellowstone Trivia
by Janet Spencer
This fun-filled, fact-filled trivial extravaganza will keep you laughing, keep you learning, and keep you guessing. Trivia Queen Janet Spencer scoured libraries, archives, and museums for the oddest and most obscure figures, facts, and fascination she could find. The perfect campfire companion! Use the book to play a homemade version of Trivial PursuitTM. Keep a copy in your glovebox, or put it in your bathroom!
You Can Be a Nature Detective
Author: Peggy Kochanoff
Why do a tree's leaves change color in autumn? How can mushrooms suddenly appear overnight? What made those tracks in the snow? 
You Can Be a Nature Detective
 helps you delve into these and other intriguing mysteries of the natural world. With the goal of getting kids outside and exploring, author Peggy Kochanoff uses breathtaking watercolors and informative text to spark readers' interest in investigating the wonders of Mother Nature.
Learn which moth or butterfly a caterpillar will turn into. Use clues left behind on the bark of trees to figure out what animal has been there. Study tiny holes in the ground to discover which creatures have been burrowing in the soil. Part field guide and part whodunit, You Can Be a Nature Detective has something for naturalists of all ages.