Wanted to Rent/Miscellaneous for Sale/To Give Away/Wanted to Buy
MISCELLANEOUS FOR SALE
FOR SALE BY SEALED bid. Dawson county High School is accepting sealed bids for a Daktronics Electronic Scoreboard. Bids will be accepted until 2 pm at the Business Office; 900 N Merrill; Glendive, MT; or by mail at PO Box 701; Glendive, MT 59330. All bids must be marked "Scoreboard". Bids will be opened and reviewed at 3pm, September 8, 2014. contact Wade Murphy at 406-377-5265 for information or to view. The Unified board of Trustees reserves the right to waive any formalities or reject any or all bids. Scoreboard sold AS IS. 8/31c9/4
FOR SALE. OAK Gathering table with four swivel chair-stools. Also one extra stool. In excellent shape. $375. Call 939-1421 (leave a message and number to call) 8/31p9/7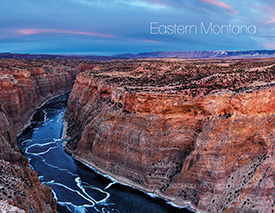 BUY THE BOOK!
Look through the selection of Montana Themed books at the RANGER-REVIEW. Do you have a book in mind?  Would you like to order or reserve a book?  Reserve, order or ask a question.
Eastern Montana
by Leland Howard and Lynna Howard
photography by Leland Howard
published by Al'Myra Communications
The beauty of eastern Montana's rolling prairies, wild rivers, and far-flung ranches is captured like never before in Eastern Montana, published by Al'Myra Communications of Miles City. With stunning full-color images by award-winning photographer Leland Howard and insightful writing by Lynna Howard, Eastern Montana is an informative and beautiful celebration of the culture and landscapes of this unique region, a treat for even longtime Montanans.
4 HANKOOK DYNAPRO HT all-season 255-70R18 tires. 12,000 miles on tires. Call (406) 377-3968. 8/28p9/4
STACKABLE WASHER & dryer, two years new, minimal use for two years. Ideal for small home or apartment. New $1300 - asking $900. Two twin beds - can be made into a king. Automated head and foot of the bed; air mattresses. new $900 approx each. Will sell individually at $450 each. Call 406-377-7222 in Glendive. 8/24p8/31
STEEL CONTAINERS, 8'x20' and 8'x40'. Wind- water-rodent tight, 2 doors, open on one end. Call 939-1200. 1/24ctf
PROTECT YOUR newspaper from wind and rain with a newspaper tube. On sale for $6 at The Ranger-Review office, 119 W. Bell. 5/26ptf
WANTED TO BUY
WOULD LIKE TO Purchase or 2" 22 mag revolvor & a 591 & a 592 5mm Remington mag rifle.  goopc3@aol.com or leave message at 503-656-5152, 8/31p9/28
BUYING FIREARMS, reloading equipment and accessories. Call 377-3969 or 365-3974 after 6 p.m. 8/5ctf