Wanted to Rent/Miscellaneous for Sale/To Give Away/Wanted to Buy
MISCELLANEOUS FOR SALE
SMALL SQUARE STRAW Bales. $3 each, also have a few hay bales. 377-3882 leave message. 11/13p11/20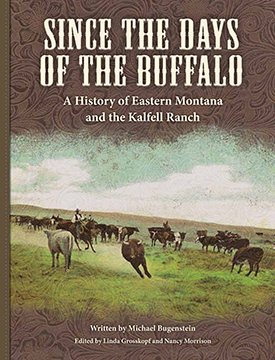 BUY THE BOOK!
Look through the selection of Montana Themed books at the RANGER-REVIEW. Do you have a book in mind?  Would you like to order or reserve a book?  Reserve, order or ask a question.
Since the Days of the Buffalo
A History of Eastern Montana and the Kalfell Ranch
by Michael Bugenstein
A comprehensive history of Eastern Montana in nine chapters, as well as the experiences on an a long-term family ranch on the High Plains. Since the Days of the Buffalo covers important and little-known facets of Great Plains history including tribal migration and settlement, open range days, homestead life, railroads, horse capture and outlaws, and the effect of the Great Depression, New Deal, and war effort in Eastern Montana. Ranching topics cover droughts and water supplies, economic downturns, diversification, land disputes and inheritance issues, presented with a "human" perspective. Since the Days of the Buffalo is an easy-to-read reference, as well as a "road map" of what today's ranchers can expect in the future.
FOR SALE - FIREWOOD Split & dried. Reasonably priced. 377-7196 or 939-2154. 11/13p1/15
FIRE WOOD FOR SALE. Call 989-1260. Ash, Oak, Cotton wood & Cedar. All located in Glendive. 10/16p12/28
STEEL CONTAINERS, 8'x20' and 8'x40'. Wind- water-rodent tight, 2 doors, open on one end. Call 939-1200. 1/24ctf
PROTECT YOUR newspaper from wind and rain with a newspaper tube. On sale for $6 at The Ranger-Review office, 119 W. Bell. 5/26ptf
WANTED TO BUY
BUYING FIREARMS, reloading equipment and accessories. Call 377-3969 or 365-3974 after 6 p.m. 8/5ctf